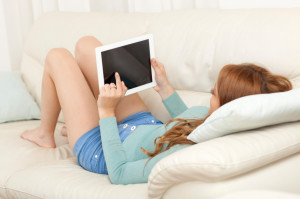 Parents often bemoan the amount of time teenagers spend surfing the web or playing video games, and a new study could add fodder to their worries. The study suggests that increased screen time is tied to significantly lower bone mineral density in boys. Screen time includes any sedentary time spent in front of a computer, tablet, TV, or other electronic device. Since adolescence is a pivotal time for bone development, poor BMD could mean more fractures and an increased risk of osteoporosis.
Researchers from Norway analyzed data from 463 girls and 484 boys between the ages of 15-18 years. BMD was measured using a dual-energy Z-ray absorptiometry (DXA).  The teens also reported on screen time use and physical activity levels.
Overall the boys who logged the most hours of screen time had the highest body mass index (BMD) and lowest BMD. In general, boys spent more time in front of screens than girls.
"The findings for boys on the other hand clearly show that sedentary lifestyle during adolescence can impact on BMD and thus compromise the acquisition of peak bone mass," said lead author, Dr. Anne Winther, of the Artic University of Norway, as reported by Medical Xpress and Counsel & Heal.
Despite the clear link in boys, the girls who spent more time in front a screen actually had better BMD than girls with less screen time. Dr. Winther said the finding warrants additional research. The results were presented at the World Congress on Osteoporosis, Osteoarthritis, and Musculoskeletal Diseases.
Additional screen time has been tied to a higher risk of back pain in teenagers, and more sedentary time is generally an indicator of a poorer quality of life, according to one study. Chiropractors can assist your child in making healthy lifestyle choices to decrease their chance of injury and musculoskeletal pain.
Reference 
OC 49 Leisure time computer use and adolescent bone health: findings from the Tromsø study–Fit Futures. A. Winther, E. Dennison, O. A. Nilsen, R. Jorde, G. Grimnes, A. S. Furberg, L. A. Ahmed, N. Emaus. Osteoporos Int. Vol 25, Suppl. 2, 2014.
See abstract here: https://www.wco-iof-esceo.org/
Share