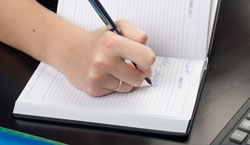 Many patients are told to keep a pain diary to monitor their symptoms, but a new study suggests that may do more harm than good. The findings show that keeping a pain journal may actually hinder patients' recovery from whiplash-associated disorder.
The study from the University of Alberta included 60 patients with acute whiplash injuries. The patients were randomly assigned to either a symptom diary group or a control group. Both groups had similar scores on the Whiplash Disability Questionnaire, showing no meaningful differences in the baseline symptoms between the groups. The diary patients were asked to keep a journal rating their overall pain levels for each day. Every participant also received physiotherapy. After three months of treatment, participants were evaluated for recovery. Although patients who used a diary did show improvements after three months, they were less likely to report being fully recovered.  Overall 59% of the diary group reported recovery, compared to 86% of the control group.
Study authors Robert Ferrari and Louw concluded that pain diary use is "likely not only not helpful, but harmful." Ferrari suggested that keeping a pain diary makes patients more aware of their symptoms, resulting in poorer perceptions of prognosis. Negative attitudes have been tied to chronic pain in patients with whiplash injuries and lower back pain.
"While diaries may serve a useful purpose to facilitate practitioner-patient communication about symptoms and to track the course of symptoms, the benefits have not been demonstrated," Ferrari and Louw wrote.
Reference
 Ferrari R and Louw D. Effect of a pain diary use on recovery from acute whiplash injury: a cohort study. Journal of Zhejiang University-SCIENCE B (Biomedicine & Biotechnology) 2013. 14(11):1049-1053
Share