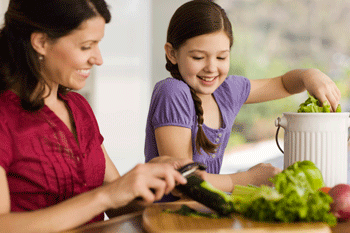 As parents, we want nothing more for our children than for them to be healthy and strong. This requires that they maintain a healthy weight as they are just as prone to weight-related conditions as adults (such as type 2 diabetes and high blood pressure). According to information presented at the European Congress on Obesity, the Mediterranean diet may be just the medium to get and keep them there.
The study included children from eight different countries: Belgium, Cyprus, Estonia, Germany, Hungary, Italy, Spain, and Sweden. Parents were questioned about what their children ate (looking for 43 foods in particular) and how much they ate. Each child was given a score based on their adherence to a diet typical of Mediterranean food items. Researchers also evaluated children's height, weight, the size of their waist, and their body fat percentage.
Researchers found is that children who ate a diet high in Mediterranean foods (which involves consuming foods such as fish, nuts, vegetables, and fruits) had a 15% lower obesity rate than children who didn't. This was true regardless of whether they were boys or girls and their age and socioeconomic status didn't appear to be factors either.
This study suggests that feeding our children more nuts, fruits, and vegetables — rather than packaged and processed foods — will help them get to and stay at a healthy weight. That will give them the best chance at living longer, higher quality lives.
Combine this type of diet with regular chiropractic care plus exercise, and your child will be as healthy – and as active – as he or she can be without increasing their risk of injury or illness. That's better than any material gift you could ever give them.
Reference
University of Gothenburg, The Sahlgrenska Academy, News Release, June 10, 2014.
Share