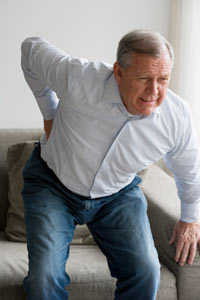 Sitting is the new smoking, and here's another reason why: a new study shows that every hour you spend sitting during the day increases your likelihood of suffering from a disability.
Researchers publishing in the Journal of Physical Activity and Health analyzed the health records of 2,285 adults over the age of 60 who wore accelerometers to track their daily physical activity levels. Their disability levels were calculated based on their capacity to complete Activities of Daily Living (ADL). The average adult spent 9 hours per a day sitting during their waking hours, even after adjusting for moderate physical activity levels, socioeconomic status, and health concerns. The researchers discovered that each waking hour of sitting resulted in a 46% increase in the risk of ADL disability. The results add to earlier research linking sitting to an elevated risk of diabetes, early death, and heart disease.
"These findings support programs encouraging older adults to decrease sedentary behavior regardless of their engagement in moderate or vigorous activity," the researchers concluded.
But it's not just older adults who are victim to the negative health effects of a sedentary lifestyle. Recent research suggest that nearly 80% of Americans fail to meet the recommended guidelines for physical activity levels, putting them at risk for a variety of diseases, musculoskeletal disorders, and obesity.
Even increasing your activity level by 20 minutes a day can make a difference in the health of obese patients,another recent study showed. Chiropractors can advise you on building a safe, effective exercise program to prevent and reduce chronic pain.
Reference
Sedentary time in US older adult associated with disability in activities of daily living independent of physical activity. Journal of Physical Activity and Health 2014. https://journals.humankinetics.com/jpah-in-press/jpah-in-press/sedentary-time-in-us-older-adults-associated-with-disability-in-activities-of-daily-living-independent-of-physical-activity
Share